8 Ways for Website Optimization of Small Business
Today I am going to tell you 8 Ways for Website Optimization of Small Businesses. In this digital age, you need to be very aware that your business website and digital presence matter to prospects. Also, if your website isn't search engine optimized, it won't show up in search results. Finding new customers will be more difficult as a result. Search Engine Optimization (SEO) is an important way to improve the visibility of your website and expand the audience for your brand among potential customers. We'll go through the basics of SEO in this blog post and show you how to make your small business website search engine friendly.
Understand How Search Engines Work
Search engines like Google and Bing use advanced algorithms to analyze millions of web pages and determine the most relevant results for user queries. To do this, search engines crawl the web and look for different elements on the page, including title tags, meta descriptions, content, images, and more. The search engine algorithm looks for clues that the website is relevant to a particular query. Websites with high scores for usefulness tend to appear in search results. As a small business owner, it's important to understand how search engine algorithms work to optimize your website and make your site more visible to potential customers You can improve your website's ranking by optimizing key elements of your page for search engines. Title tags and meta descriptions are two of the most important things you can modify to make your website interesting for search engines. You can also do keyword research to find the words and phrases most relevant to your business group. Also, this optimization of your URL and images will make it easier for search engines to read and rank. By adding the right text and using schema markup, you can improve your website content making it easier for search engines to understand what your page is about. Properly creating and positioning data, as well as website graphics and other elements, will help it rank faster in search engines.
Keyword research is one of the most important aspects of SEO for small businesses. This involves conducting online research on the words and phrases your potential customers typically use to search for similar products or services. Using this information, you can optimize your website and content for those relevant keywords. You can optimize your keyword research with a few steps: Start by writing down information about your business. You can use tools like Google Keyword Planner, SEmrush and Uber recommendation to find related keywords and keyword ideas. Consider specific phrases or questions your potential customers are searching for, such as "SEO for google my business" or "how to optimize your small business website for search engines". Check the competition Identify the keywords your competitors are engaged in, and use them as your research tools. Once you've identified a few target keywords, you can use tools like SEMrush and Ahrefs to track their search volume and problem level. This will help you determine if they are worth targeting or if you should pursue other strategies. Remind yourself that you are making progress as you complete these tasks. Check the order of your pages daily. Make adjustments as needed. The team at Savi Web Dezine is constantly researching keywords and results.
Optimize Your Title Tags and Meta Descriptions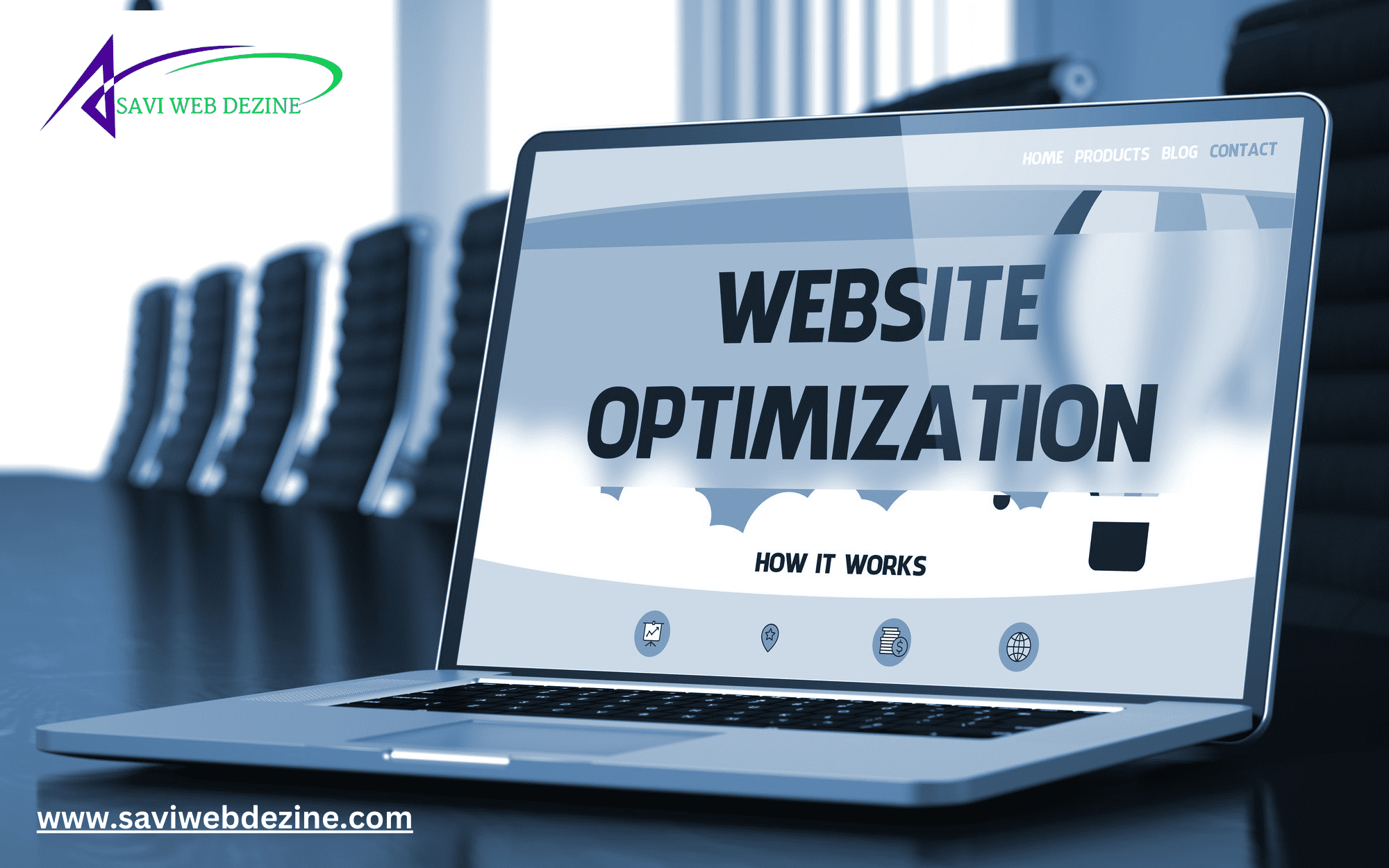 Title tags and meta descriptions are important elements for search engine optimization. These act as advertisements for your website, giving you a summary of what's on the page, and telling search engines what keywords to use when indexing the page A good headline should be short but descriptive, with your keywords and the name of your business or website. It should not be longer than 60 characters. Because that is the limit at which most search engines can display results. Your meta description is like a summary of the page content, used to entice potential customers to click through to your website. It should also include your primary keyword(s) and should not exceed 160 characters. Title tags and meta descriptions should be updated regularly to keep the page content relevant. The main thing to remember is that title tags and meta descriptions do not directly affect your website's ranking in search engine results. You should keep in mind that Optimization can ensure that your website stands out from the competition and bring more traffic to your website.
Improve Your Site's Content
The content of your website is the most important factor for SEO. For example, search engines use it to determine how your website ranks for certain search terms. To ensure that your content is optimized for SEO, you need to include keywords in all of your content. Keywords are words or phrases that are relevant to your content, so they naturally appear in them. Be sure to use synonyms, related words, and the keyword itself.
Why is SEO so important for businesses?
Additionally, to include keywords, your content should also be of high quality and provide useful information to readers. You want readers to find your content helpful and interesting, as this will encourage them to spend more time on your site and share it with others. Additionally, pages with longer content (articles over 1,000 words) tend to rank higher in search engine results than shorter ones, so it can be beneficial to create longer and deeper content with good grammar Your content should also be well organized and easy to read. This means breaking large text into smaller paragraphs, using headings and subheadings, and using bullet points or numbered columns when appropriate. This makes it easier for readers to quickly scan the content and find the information they are looking for. Also, you need to pay close attention to how your website content interacts. Interlinks are links that go from one page of your website to another. These will help search engines understand to engage with your website pages and also help readers spend more time on your site. leading to increased understanding in search engines of the readability of your site.
Your URL structure is an important part of how search engines rank your website. Search engine algorithms look for URLs that are clear, concise, and contain keywords relevant to the content of the page. One of the most important steps in URL optimization is to ensure that each page of your website has its own unique URL. This helps search engines index and crawl your pages faster. It also helps improve your visibility in search engine results pages (SERPs). Keep them short and straightforward enough to fit your URLs. Make sure they are free of unnecessary words or symbols. Use keywords to describe the content of the page, but don't put too many keywords in the URL. Keep it short and relevant. You should use a hyphen (-) instead of an underscore (_) to separate words in your URL. This makes them more readable for users and search engines. Also, we need to ensure that all URLs on our website are redirected. If you make changes to your URLs, be sure to configure redirects 301 from the old URL to the new one. This will not lose any traffic coming from the old link and will ensure that search engine crawlers can find your updated pages.
The key to optimizing your website for search engines is to optimize your images. Images make your website look professional and attractive, but if they are poorly edited, they can hurt your website's SEO. There are a few things you need to do to improve the quality of your images. Select the appropriate file type. The three most common image file formats are JPG, PNG, WebP, and GIF. Each has different advantages and disadvantages, so it's important to choose the right file based on the image you're using. For example, if you want to display images, JPG is generally the best choice. Reduce the image size. Large image files can slow down your website upload speed, and can negatively impact your SEO. Use a tool like Photoshop or GIMP or some of the web pages on google to reduce the size of your images without sacrificing quality. Add the ALT tag. The ALT tag provides an additional text of the image if it cannot be displayed properly. They also help search engines understand what your image is about, which can help boost your SEO. Label your photos appropriately. Naming your images in an instructive way can help search engines understand them better and improve their SEO value. The above steps will help you optimize your website's images for SEO and help your website rank easily.
Schema markup is a type of microdata that provides search engines with additional information about the content on your website. This allows search engine crawlers to better understand the meaning and context of the content on your site, making it easier for them to index it for relevant searches. This can help boost your website's visibility in search engine results pages (SERPs). Plan markup can add information to your website such as survey scores, product availability, hours of operation, or even event information. This helps search engine crawlers understand what your websites are about and makes it easier to rank them accordingly. To use schema markup on your website, you need to use a tool like Google's Structured Data Markup Helper or Schema App, or others. Both tools allow you to create custom schema code and embed it into your HTML. When creating schema markup, make sure you use the most recent version and that the code you create works. The last thing you want is for your schema markup to be ignored by search engine crawlers because it's outdated or invalid. Once you have created and implemented your schema markup, don't forget to test it with Google's Structured Data Testing Tool. This tool allows you to check if your markup is working properly and delivering the additional information you want to convey. By properly using schema markup on your website, you can ensure that search engine crawlers have all the information they need to accurately index your site and give you the best chance of high visibility on On the SERPs
Monitor Your Site's SEO Health
You need to make sure your small business website is optimized for search engines, and monitoring its SEO health is important. Doing this will help you identify any potential issues or areas for improvement, so that you can make adjustments and improve your website's ranking in the SERPs. One way to monitor your site's SEO health is to use an SEO audit tool. These tools can analyze your website and identify potential problems or opportunities that you might be missing. They also provide useful insights into how well your website is performing, so you can see if there are any areas you can improve. Another great way to monitor your site's SEO health is to keep an eye on your website's analytics data. This will help you better understand how your site is seen, which pages to visit, and other valuable information that can help you optimize your site for search engines You should also target the SERPs for your targeted keywords. This will help you see how well your site is performing relative to your competition, and it can also help you identify any further improvement opportunities. Savi Web Dezine ensures that it is updated according to google or other search engines, SEO trends and strategies. We use it to do all of the above on a daily basis to optimize your site for better SEO.